Walled Gardens' Canary is Chirping Away
Jack Dorsey's announcement isn't just about Twitter. It signals a shift towards a more decentralized future.
Jack Dorsey's push towards decentralized social media is another sign we're witnessing big tech's inflection point. The moment where the pendulum starts to swing the other way.
Dorsey made a "blockchain announcement" today, but unlike his rulers-of-the-universe peers, it's not some kind of closed consortium with other multi-billion dollar companies to create a permissioned network to shove his own proprietary product and/or coin down users' throats and reap the rewards.
It's the opposite: He is funding development for an open and decentralized standard for social media, he tweeted. Twitter will be one of potentially many implementations of this protocol, which will be built on top of an existing standard or created from scratch. The project, called Bluesky, will be made up of a team of up to five people and Twitter CTO Parag Agrawal is tasked with finding its lead.
He gets it. And it's not a huge surprise since he's been knee-deep in crypto for some time. His other company Square's Cash App enables Bitcoin purchases, he's funding Lightning Network development and he's said he believes Bitcoin will be the currency of the internet. But what's interesting is this signals a bigger shift away from a centralized internet. It's may be the canary in the coal mine, chirping before today's walled gardens are dismantled.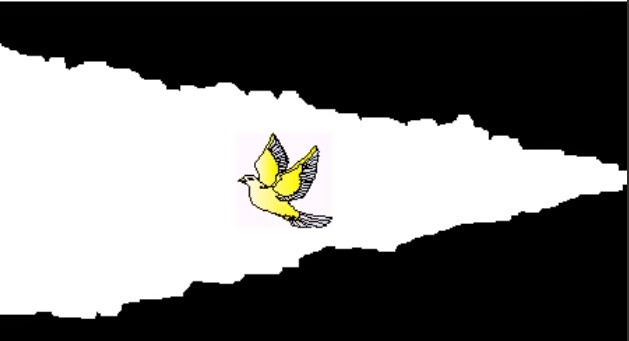 Image source: letsfeast.feast-ed.org
It's Time to Untangle the Web
We've all heard the story before: The internet started out as an open peer-to-peer network, which gradually closed up as platforms built on top of it became its main gateway. These platforms are walled off from the outside world; they own their code and in a way, they own their users too. They're incentivized to gobble up as much of the market as possible. The result: Only a handful of companies now control the web.
This has provided us with a great user experience, but we've sacrificed our privacy and have let these corporations profit from our data. We've been exposed to propaganda and content that's made to deceive us on one end, and suppression of free speech on the other. People are starting to get tired of this model. One example: Facebook's reputation took the biggest hit among the 100 most visible U.S. companies this year, according to the Harris Poll Reputation Quotient. All other big tech companies dropped.
Open is Better
Blockchain technology wasn't around when the internet was created in the 70s, for its boom in the 90s, or when today's incumbents were built in the early 2000s. But now that people's needs and perceptions are changing, decentralized public networks, which can be monetized with cryptocurrencies for the first time, can help us break free from today's centralized world.
How exactly would that improve the current system? Dorsey pointed to at least part of the answer in his thread today. By opening up social media, single corporations will no longer be the only ones in charge of running the show. Developers everywhere would be free to build everything from tools to police hate speech, to recommendations algorithms.
Open is better because it can oddly spur both competition and collaboration. Competition, because many teams can build and improve on the same code, and collaboration, because platforms and products can connect like pieces in a growing organism, rather than separate companies fighting each other.
Meme-able Money
What does this have to do with decentralized finance? A lot. Decentralized networks enable value to move as freely as content over the internet so that for the first time a true internet of money is possible. Assets can be, not only exchanged, but also created and modified as easily as a grumpy cat meme.
Decentralized social networks built on the standard Dorsey is proposing will be key avenues for these assets. The lines between social media and banking apps will start to blur. This may sound scary, and it will carry its own set of risks, but it will also bring down the walls of the financial services industry, which have been much too high for a large portion of the world to reach.
We're already seeing this happening in decentralize finance on Ethereum. But in the future, the Ethereum ecosystem won't be doing this in isolation. It will be a part of a bigger –call it "Web3"– world, that's increasingly decentralized.
… I've said decentralized a lot in this post as if it's some sort of panacea. It's not. To me it simply means controlled by individuals more than by single entities. A world where we each have more power over own stuff. And that's hopefully where the pendulum is swinging.
---
The Defiant is a daily newsletter focusing on decentralized finance, a new financial system that's being built on top of open blockchains. The space is evolving at breakneck speed and revolutionizing tech and money. Sign up to learn more and keep up on the latest, most interesting developments. Subscribers get full access, while free signups get only part of the content.
About the author: I'm Camila Russo, a financial journalist writing a book on Ethereum with Harper Collins. I was previously at Bloomberg News in New York, Madrid and Buenos Aires covering markets. I've extensively covered crypto and finance, and now I'm diving into DeFi, the intersection of the two.