VC Model Says Ethereum is Hugely Undervalued
Good morning defiers! Here's what's up:
Venture capital firm Placeholder's valuation model shows Ethereum is cheap relative to other smart contract platforms

Crypto gamers don't play with each other

MakerDAO monetary policy and money legos are working
---
VC Model Says Ethereum is Hugely Undervalued
A new valuation model devised by venture capital firm Placeholder shows Ethereum is undervalued relative to similar platforms. The standout is EOS, whose ratio is about 100 times higher.
The model measures the network's total market value and compares it to the value of the tokens issued on top of it. In the case of Ethereum, ether's market capitalization is divided by the combination of all ERC20, ERC 721, and all the rest of Ethereum-based tokens. Ethereum network's ratio, trading at 2x the value of its tokens, is cheaper than all other smart contract platforms. EOS is trading at 234x times the value of its tokens, wrote Placeholder partner Chris Burniske.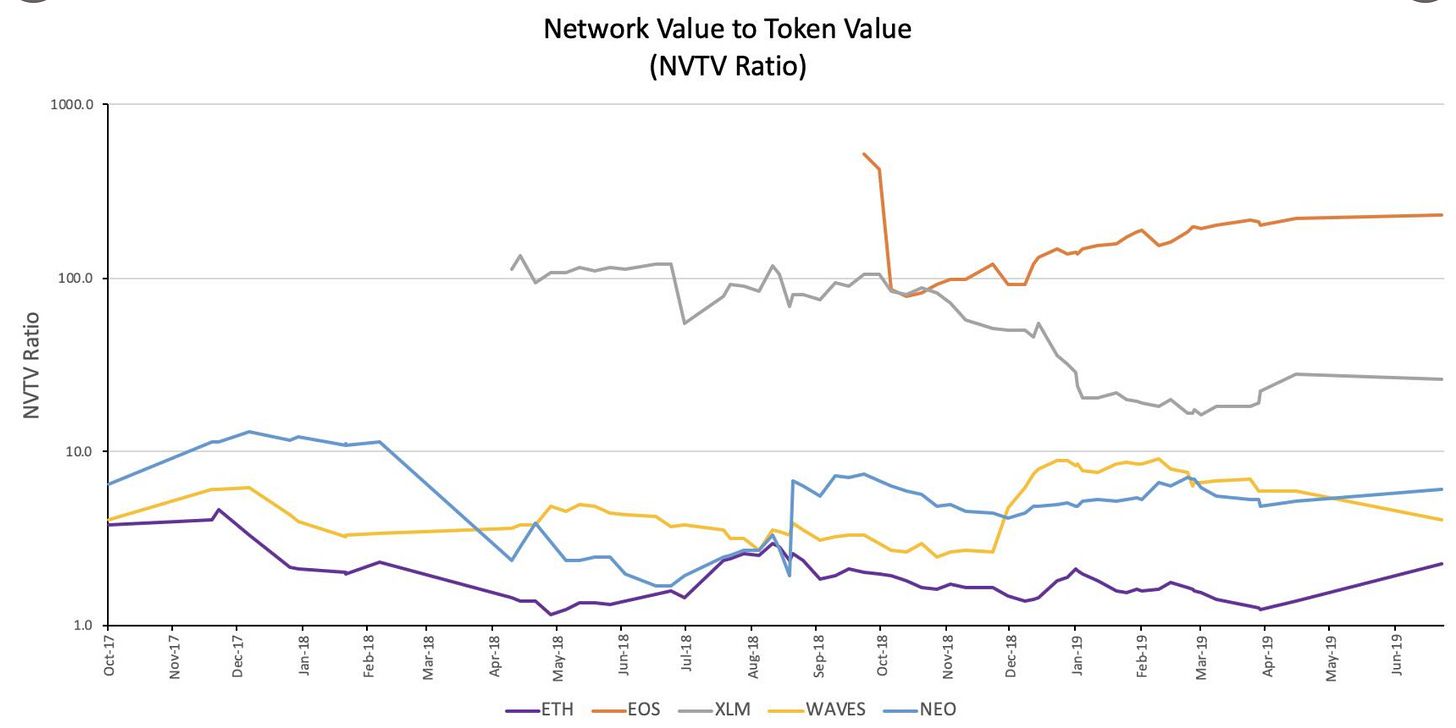 Source: Placeholder partner Chris Burniske's tweet @cburniske
Analysts have struggled to come up with good valuation models for crypto, which doesn't neatly fit measures used in other assets. For example, the popular price to earnings ratio (P/E) is useless, as these platforms don't generate revenue in the traditional sense. Placeholder's Network Value to Token Value (NVTV) is one attempt at improving this.
Another shot at creating a crypto valuation model was to measure network value relative to transaction volume, but that framework has been criticised as transaction volume can be faked and because both metrics are generally closely correlated. NVT is not perfect either as many tokens are too illiquid to be correctly valued.
The model shows that so far, all major smart contracts platforms are more valuable in terms of market capitalization than the projects built on top of them. It's been a recurring question for crypto investors whether the base layer must always be more valuable than its applications, and so far the answer is yes.
Here's another question: Is Ethereum hugely undervalued, or are other smart contracts blockchains hugely overvalued. If the base layer token is being used like currency, with high velocity of transactions, then there shouldn't be much pressure for the token to appreciate. What do you think?
Meanwhile, in another relative valuation metric, ether is starting to pick up versus bitcoin after the ETH/BTC ratio fell to the lowest since early 2017
Crypto Gaming Groups Don't Play With Each Other
Crypto-gaming communities remain extremely separated, according to a report by NonFungible.com, which tracks the data. Apart from CryptoKitties, where players in many other games also dabble, almost all projects have less than 10 percent of common users with other projects.
"We deduce that the players of these projects are invested because they appreciate the experience and the in-game universe, not because it is a 'blockchain game,'" the report said.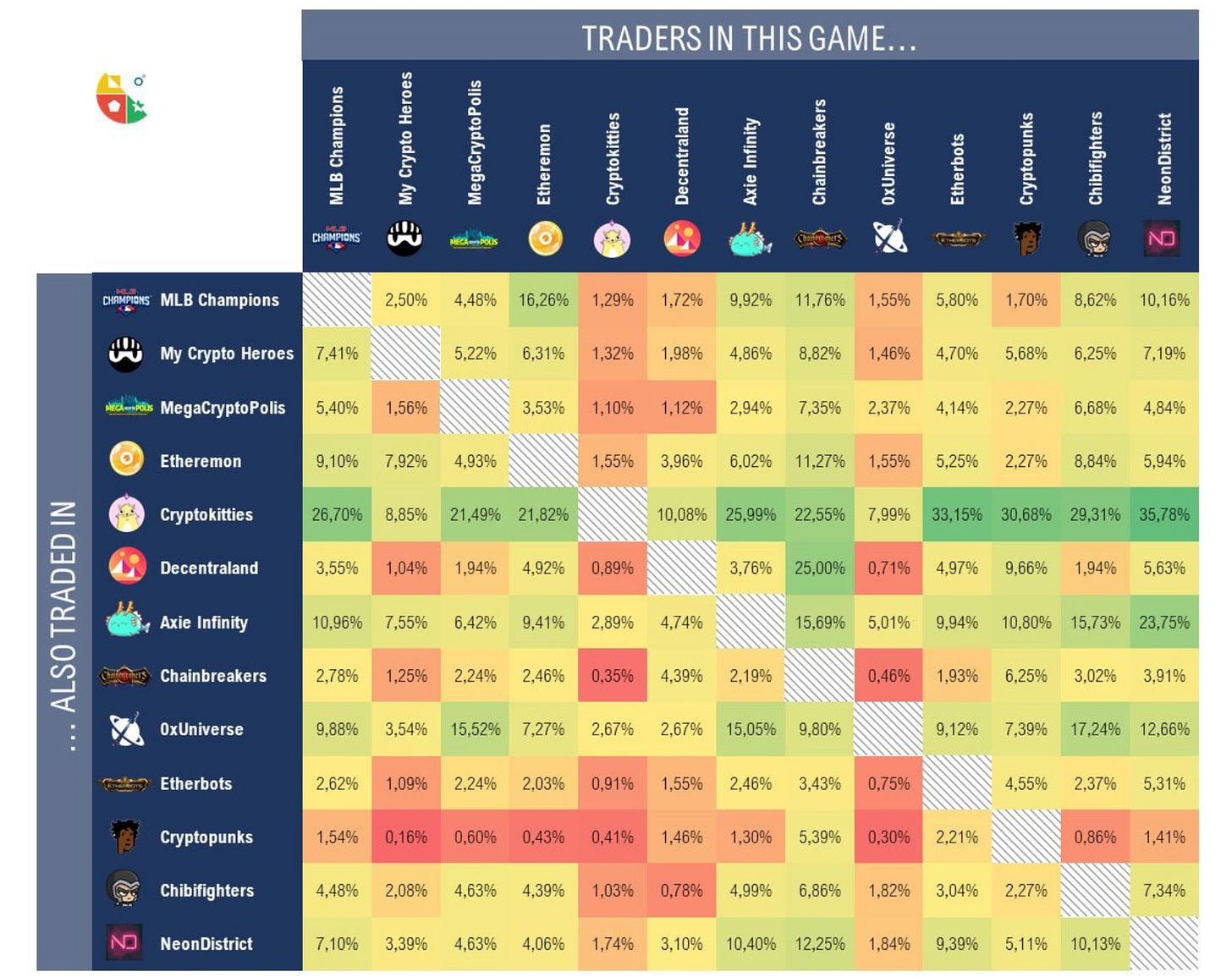 Source: NonFungible.com
One of the advantages of using non-fungible assets is that gamers can actually own those tokens, trade them outside of the game, and potentially even use them in decentralized finance to take out loans or earn interest on them. If the report shows most players aren't even venturing into other games, they probably aren't experimenting much with NFTs either, which is an indication that there's still a lot of room for the space to grow.
MakerDAO Hawkish Monetary Policy is Working
MakerDAOs stablecoin DAI is returning to its peg and was last trading between at $1 and $1.01 after holders of MKR voted to raise the stability fee to 20.5 percent, the highest ever.
DAI supply has plunged to the lowest since February as the high rate prompted borrowers to close out their loans. The InstaDapp bridge between Maker and Compound, which allows users to seamlessly switch platforms has helped the process, in another signal of how the different pieces of decentralized finance (so-called "money legos") can work together to create a more efficient ecosystem.
It might even be time to lower the stability fee. Right now the majority of MKR is put towards cutting it by two percentage points to 18.5 percent.
---