Tether is Increasingly Ethereum Based, New Crypto Privacy Tool
Happy Friday defiers! For those of you in the U.S., hope you had a great Independence Day and were able to celebrate too that it's been a little over a decade since cryptocurrencies have enabled independence from centralization and censorship :) Here's what's up today:
Stablecoin Tether is increasingly migrating to Ethereum

Big step towards private crypto transactions
---
Tether is Practically an Ethereum Token Now
Ethereans used to eagerly watch for the "flippening" in mid 2017, when Ethereum's market cap was about to overtake Bitcoin's. Now a different, unexpected, sort of flippening is upon them.
Tether, the infamous stablecoin that nonetheless accounts for a large chunk of cryptocurrency market volume, is increasingly becoming an Ethereum-based token.
Tether, ticker USDT, which was originally issued on Bitcoin-based platform Omni, has also been available as an Ethereum-based ERC20 token since September 2017, but it wasn't until recently that issuance on Ethereum picked up.
The $550 million that has been minted by Tether Treasury since June has been all on Ethereum, according to Whale Alert, a bot that tweets out the transactions. Transaction count and addresses for Ethereum-based Tether is also narrowing in on those for Bitcoin-based Tether, according to a Coin Metrics June 10 report.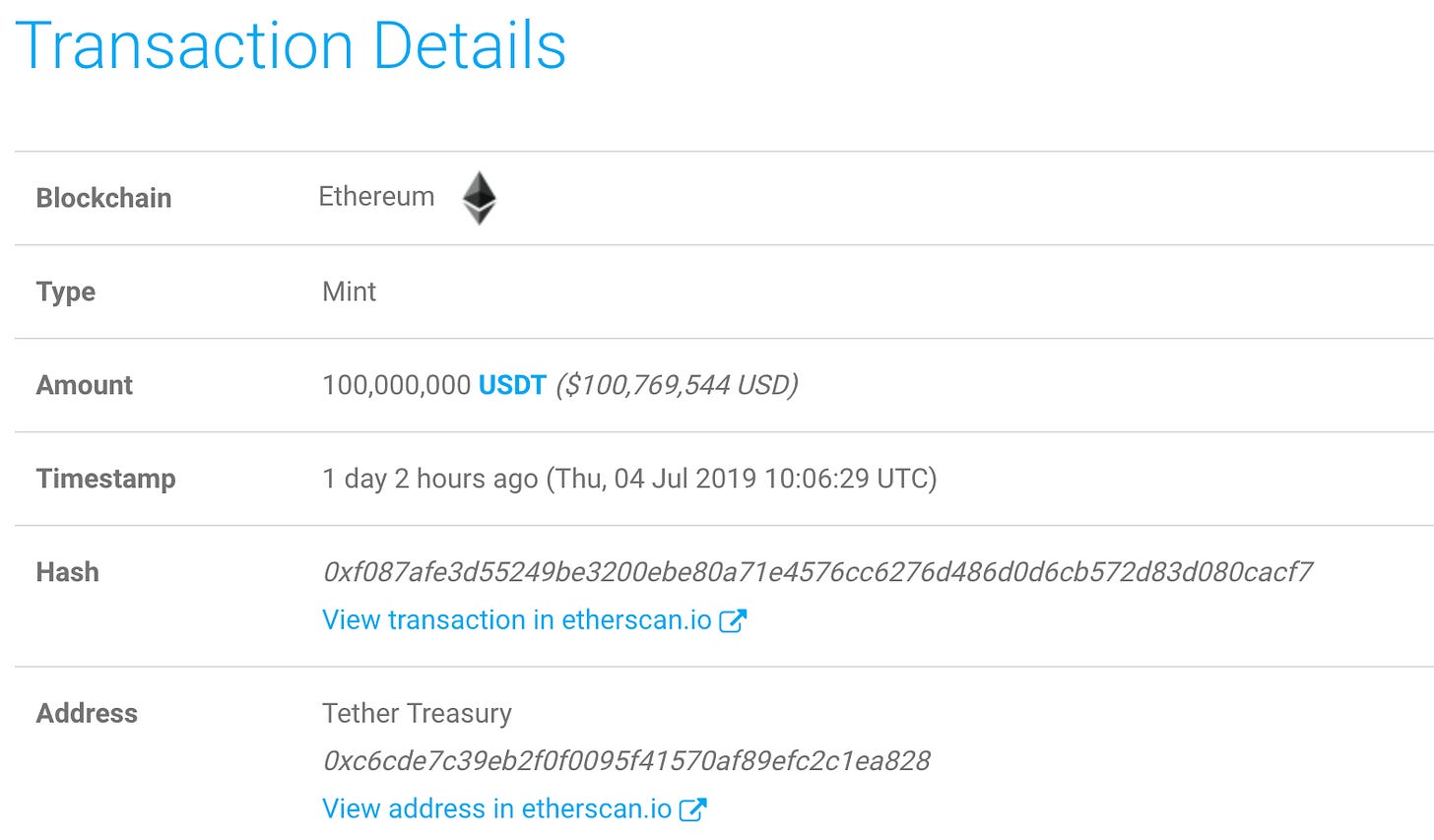 (Chart Source: Whale Alert)
That's prompted total Ethereum-based USDT in circulation to account for 32 percent of total USDT, and 43 percent of Bitcoin/Omni-based-USDT.
What could further narrow that gap is that cryptocurrency exchange giant Binance on Wednesday said it will default to Ethereum-based USDT, as all Tether deposits and withdrawals will have to be done with Ethereum addresses. Poloniex announced the same move saying, "We've opted to support ERC-20 based USDT to give customers more flexibility and because Ethereum is faster and cheaper than Omni."
Tether gave similar reasons to issue ERC20 tokens in the first place: "The ERC20 Tether will have much lower network transaction fees and much faster confirmation times (15-30 seconds) compared with Tether on Omni. This will facilitate more efficient exchange arbitrage."
Tether has a lot of –"baggage" would be an understatement, so Bitcoiners may be relieved to get it off their backs and lighten up the load of the network. Still, it doesn't speak too positively about Bitcoin's ability to be a settlement layer for other assets.
Regardless of the merits of Tether itself, it's a good sign for Ethereum that one of the most used tokens is migrating to the network because it's faster and cheaper, and bullish for ether as activity should increase.
It will also give Ethereum users more options as ERC20 USDT becomes more widespread in dapps and Ethereum wallets. As far as specifically for decentralized finance, I'd argue DAI remains a better alternative as USDT is far from meeting the levels of trustelssness the emerging sector is trying to achieve.
Progress Towards More Private Crypto
Software engineer Kendrick Tan on Wednesday published a proof of concept that allows users to hide who they're sending their money to, or "wash" their ether. The tool, known as a mixer, is called Heiswap.
There's an incorrect perception that criminals can use cryptocurrencies to hide their transactions, but the opposite is true, public blockchains means transactions are public and users are pseudonymous, not anonymous. That's a problem for anyone who wants complete privacy. Heiswap is a great step towards solving this problem.
It's also worth noting that the project came about after Kendrick stumbled on Vitalik Buterin's HackMD post, where he sketches out the idea for a mixer. Kendrick thought, why not? and went for it. He briefly met Vitalik once and he doesn't work for the Ethereum Foundation, but is still contributing to the network. Distributed, open systems often seem chaotic, but these are the ways they somehow —work.
---
The Defiant will become a paid newsletter in the next couple of months. As a way to say thank you to the first ones joining me in building this platform, anyone who signs up before the paid period will pay just $8/month and $80/year for the best (and only) daily, in-depth DeFi content out there, compared with the full price of $10/month and $100/year.
Subscribe now! You'll be supporting independent journalism and allowing me to continue illuminating this fascinating corner of the world for you.