Recap: DeFi Week of Jan. 27 🦄
Hello Defiers, hope you're having a great weekend!
Summing last week up: DeFi keeps making new records with total value locked crossing $900 million. Chainlink increases decentralized oracle access, Argent wallet integrated MakerDAO's Dai Savings Rate, and sidechain Fuel for scalable payments launched testnet. The decentralized exchange space was active, with 0x launching a dex aggregator standard and 1inch integrating limit orders. I dove into Gitcoin grants' explosive growth, and interviewed Pet3rpan about MetaCartel and living an almost entirely Web3 life. And of course, there's more :)
---
Monday Interview
This week's interview was with Peter 'Pte3rpan,' one of the most crypto-native people in the planet. He's so deep in dapps and tokens, he says there's probably no turning back to the "normal" life for him at this point. This designer and community organizer, who goes by the online name of Pet3rpan, is one of the most active and founding members of MetaCartel. You may have seen the group's distinctive dancing chili around on Crypto Twitter, but this group is much more than a meme. MetaCartel has become a force in the Ethereum community.
Sums
Chainlink Boosting Access to Price Data for DeFi: Data feed provider Chainlink launched a platform which provides increased access to data feeds for Ethereum applications. 

Dexes Become Increasingly More Sophisticated: Decentralized exchange aggregator 1inch is launching limit orders.

Scalable Ethereum Payments Are Closer: A testnet for Ethereum sidechain Fuel is now live.

Recent DeFi Milestones: deFi keeps breaking record, including total value locked in DeFi, approaching $900 million
Bytes
Dives
Ethereans are Disrupting Donations in a Literally Radical Way: Gitcoin has helped fund blockchain-based teams with $3.3 million, of which over $700,000 have been through grants using a novel mechanism called quadratic funding.
Sums
Stablecoins Flippen Ether Transfers on Ethereum: The gap between stablecoin transfers and ether transfers on Ethereum has continued to widen, with stablecoin transfers far outpacing those of ETH, wrote Ryan Watkins of Messari.

Argent Integrates DSR: Argent smart wallet integrated with MakerDAO's Dai Savings Rate. 
Bytes
Dives
0x Enters the Dex Aggregator Game: With so many decentralized exchanges popping up, aggregators are increasingly needed. 0x launched its 0x API for developers to access liquidity from different dexes.
Sums
Is Winning the Lottery the Safer Bet?: Traders stand to earn more in Pool Together's "no-loss" lottery than by gaining interest via depositing funds on Compound Finance, according to Ankit Chiplunkar, lead researcher for TokenAnalyst.

A Better Fundraising Model: Let's bring back fundraising to crypto, but without all the misaligned incentives and scams of ICOs, proposes crypto investor David Iach.

ETH 2.0 Client Nimbus Receives $650k Grant: The Ethereum Foundation has granted Nimbus $650,000, for it to continue developing infrastructure for Eth2.0. 
Bytes
---
💜Community Love💜
Thanking all the amazing defiers for the support and love this week (and always)!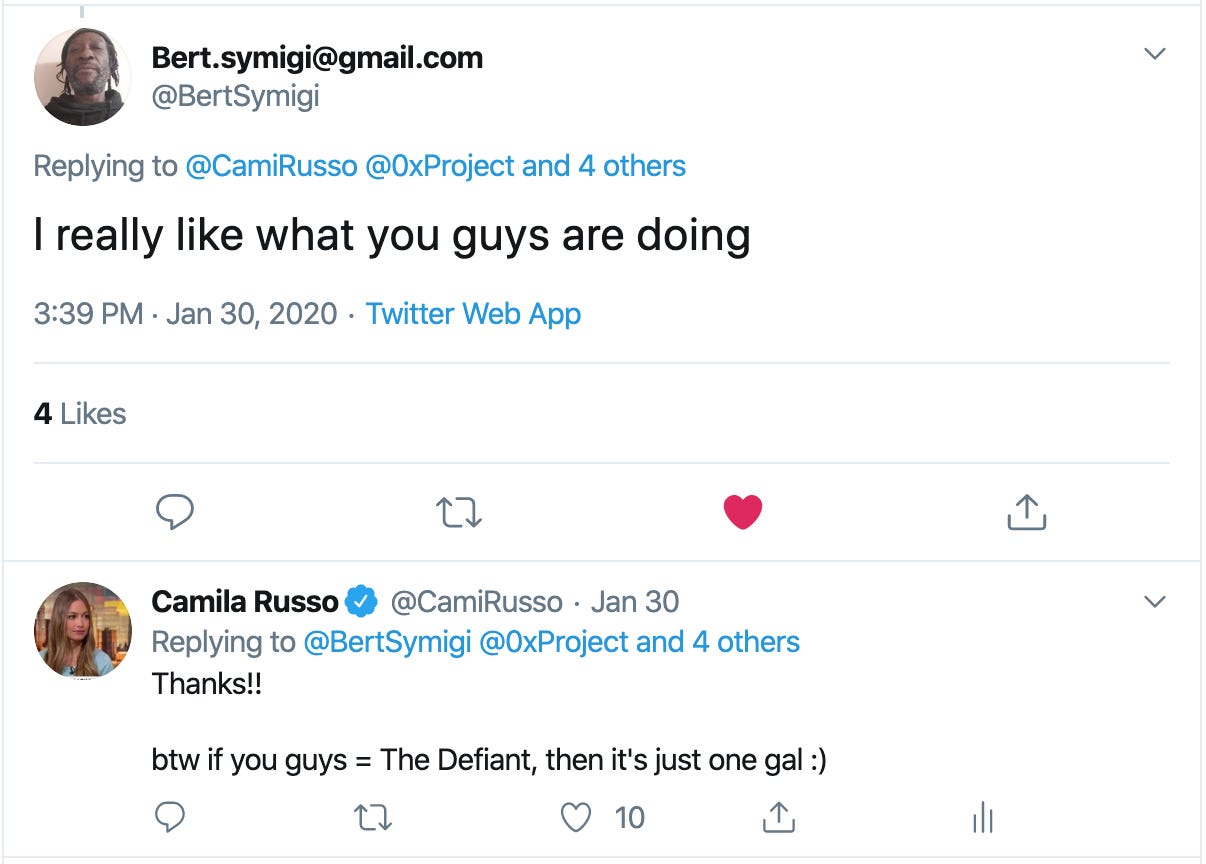 ---
The Defiant is a daily newsletter focusing on decentralized finance, a new financial system that's being built on top of open blockchains. The space is evolving at breakneck speed and revolutionizing tech and money. Sign up to learn more and keep up on the latest, most interesting developments. Subscribers get full access at $10/month or $100/year, while free signups get only part of the content.
Click here to pay with DAI.There's a limited amount of OG Memberships at 70 Dai per annual subscription ($100/yr normal price).
About the author: I'm Camila Russo, a financial journalist writing a book on Ethereum with Harper Collins. (Pre-order The Infinite Machine here). I was previously at Bloomberg News in New York, Madrid and Buenos Aires covering markets. I've extensively covered crypto and finance, and now I'm diving into DeFi, the intersection of the two.