Recap: DeFi Week of Jan. 20 🦄
Hello Defiers, hope you're having a great weekend!
Summing last week up: MakerDAO's Dai Savings Rate increased to 7.75 percent from 6 percent. Set Protocol launches Social Trading, for users to automatically follow other investors' strategies. There's a new undercollateralized lending experiment in DeFi called Rocket. bZx unveils the details of its plans to decentralize governance. Nodar Janashia spoke with me about the future of DeFiZap, and Julien Genestoux of Unlock Protocol wrote about the potential risks of DeFi. And more :)
---
New Doesn't Mean Better: A DeFi Cautionary Tale
Julien Genestoux of Unlock Protocol writes about the value, but also the potential pitfalls of building a new financial system. The risk is two-fold: Excluding the advantages of the old system, and introducing additional liabilities in the new. Julien says he's on a "mission to fix the web" with Unlock, a protocol for content creators to monetize their platforms in a decentralized way. 
Dives
MakerDAO is Getting Close to Double-Digit Deposit Rates: Holding Dai tokens, which are pegged at one-to-one to the dollar, might soon get you as high as 7.75 percent of interest — that's about four times more what you can get for dollars in a U.S. bank account. [Vote passed and rate is now at 7.75 percent]
The Follow Button is Being Supercharged With Money: Set Protocol allows users to automatically invest according to popular strategies like daily moving averages and relative strength indexes. Now it will let traders follow individual people's investments strategies
Sums
Here's What Happens When DeFi Devs Build a Rocket: Undercollateralized lending experiments are blowing up this year. The latest one is Rocket, a project led by Alex Masmejean.
Bytes
Introducing the bZx DAO: Kyle Kistner
The Year in Ethereum 2019: Josh Stark & Evan Van Ness
"We Need to Democratize Access to DeFi": DeFiZap's Nodar Janashia
DeFiZap wants to create a one-click experience for DeFi, reducing the number of steps involved in deploying your funds into decentralized finance protocols, with the goal of making investing easier for the masses. Nodar Janashia is bursting with ideas for his barely one-month old project — gas-less Zaps! private Zaps! anti Zaps! insured Zaps! He lays them all out, and says which he expects will come first. He talks about plans to make this four-person hackathon project into a sustainable business, his focus on education, and concrete action he's taking to democratize DeFi.
---
💜Community Love💜
Thanking all the amazing defiers for the support and love this week (and always)!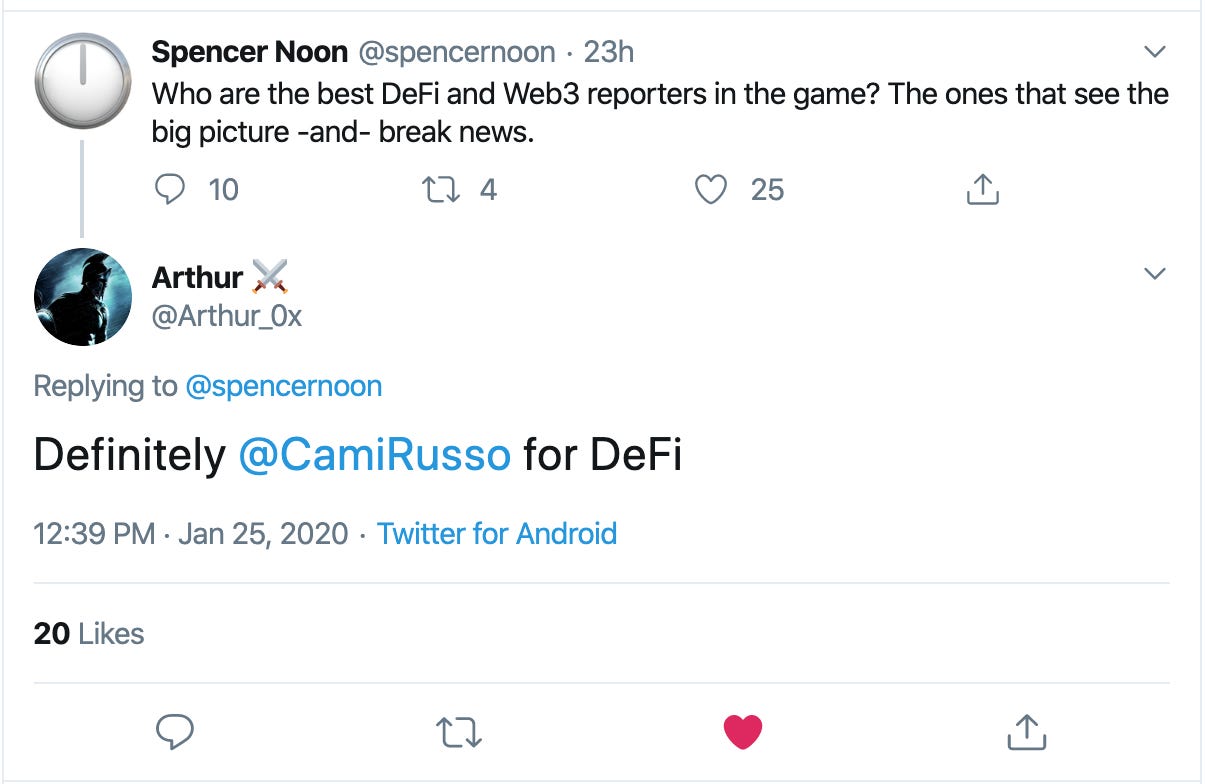 Two
#DeFi
investment `experiments` to follow in 2020 1️⃣ A programmable Fund from the
@CamiRusso
founder of the Defiant
thedefiant.substack.com/subscribe
2️⃣ A Defi fund
@philippsandner
, Maximilian Feldmeier, Victor von Wachter
@thomaspower
@sallyeaves
@APompliano
@IvanOnTech
@RRKUBLI
The Defiant
A daily newsletter decrypting the intersection of blockchain and finance
thedefiant.substack.com
---
The Defiant is a daily newsletter focusing on decentralized finance, a new financial system that's being built on top of open blockchains. The space is evolving at breakneck speed and revolutionizing tech and money. Sign up to learn more and keep up on the latest, most interesting developments. Subscribers get full access at $10/month or $100/year, while free signups get only part of the content.
Click here to pay with DAI.There's a limited amount of OG Memberships at 70 Dai per annual subscription ($100/yr normal price).
About the author: I'm Camila Russo, a financial journalist writing a book on Ethereum with Harper Collins. (Pre-order The Infinite Machine here). I was previously at Bloomberg News in New York, Madrid and Buenos Aires covering markets. I've extensively covered crypto and finance, and now I'm diving into DeFi, the intersection of the two.