Recap: DeFi Week of Feb. 17 🦄
Hello Defiers, hope you're enjoying your weekend!
Summing last week up: It was a shorter week for The Defiant because of the U.S. holiday, but an incredibly intense one. Two exploits leveraged flash loans and five different DeFi platforms, including bZX and dYdX, to manipulate the market and make a profit. The schemes, which yielded about $900,000 (depending on the ETH price), had the whole ecosystem scrambling to find which other protocols were vulnerable. It turned out there was a potential exploit on MakerDAO, which triggered an emergency governance vote yesterday. The silver lining is that we got to see decentralized insurance in action as Nexus Mutual paid out bZx lenders' claims. On less stressful news, Decentraland launched, causing digital land sales to spike, and Synthetix is adding ether as collateral.
---
Dives
$180K of Digital Land Sold as Virtual City Gates Open: Decentraland, the virtual world built on the Ethereum blockchain, launched yesterday after three years of private development.
Sums
Synthetix Adds Ether as Collateral: Synthetix, a platform to mint and trade synthetic digital tokens, is adding ether as collateral in its Achernar release.

Nexus Mutual Paid Out bZx Insurance Claims: One silver lining from the bZx exploits was proof that Nexus Mutual's decentralized insurance system works.

Bytes
First
Exclusive: Cristiano Ronaldo is Getting Tokenized: Sorare, a fantasy football game, entered a licensing agreement with Italian giant Juventus to issue scarce digital tokens representing the team's players. Cristiano Ronaldo's card is getting issued today.
Dives
So This is What a Bank Run on DeFi Looks Like: Three days after bZx's second attack, the protocol is still paused and users are waiting to close out trades and take out their money.

MakerDAO Scrambles to Fix Potential Flash Loan Exploit: All of DeFi is in high alert after the bZx exploits made it clear that hackers can use flash loans to manipulate the system. With MakerDAO holding more than half of all the ETH in decentralized finance, it's a big target, and token movements spurred speculation hackers are preparing an exploit. 
Exploits Yield $900k and Raise Questions of "De" in DeFi: In the last four days, the bZx DeFi trading protocol was exploited twice; the first attack was executed over Valentine's Day and yielded ~1,271 ETH, while the second one was just last night and made ~2,378 ETH. That's about $320,000 and $600,000, respectively, with ETH at $250. Questions on whether DeFi is sufficiently decentralized, and on the potential points of failure posed by price oracles, were raised as a result.
---
💜Community Love💜
Thanking all the amazing Defiers for the support and love this week (and always)!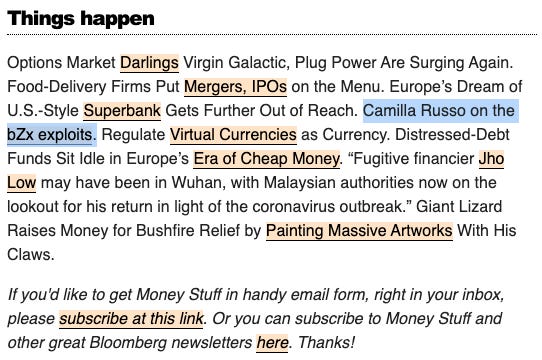 ---
The Defiant is a daily newsletter focusing on decentralized finance, a new financial system that's being built on top of open blockchains. The space is evolving at breakneck speed and revolutionizing tech and money. Sign up to learn more and keep up on the latest, most interesting developments. Subscribers get full access at $10/month or $100/year, while free signups get only part of the content.
Click here to pay with DAI.There's a limited amount of OG Memberships at 70 Dai per annual subscription ($100/yr normal price).
About the author: I'm Camila Russo, a financial journalist writing a book on Ethereum with Harper Collins. (Pre-order The Infinite Machine here). I was previously at Bloomberg News in New York, Madrid and Buenos Aires covering markets. I've extensively covered crypto and finance, and now I'm diving into DeFi, the intersection of the two.