Recap: DeFi Week of Dec. 9 🦄
Hello defiers! Hope you're having a create weekend :)
Summing up this past week: A MakerDAO attack which could drain the system's collateral was exposed, prompting the community to vote on a fix. Uniswap blocked some countries from its website, but its open source protocol allowed alternative front-ends to pop up within hours. The amount of Dai (mutli-collateral stablecoin) overtook the amount of Sai (single-collateral stablecoin) outstanding. Bitcoiners are building its own version of MakerDAO. Jack Dorsey said Twitter is supporting the creation of a decentralized standard for social media.
---
Also: You can now subscribe to The Defiant with Dai.
👉Go to this link (bit.ly/the-defiant), and you'll be able to buy an NFT token representing an annual subscription.
There's a limited amount of The Defiant OG Membership tokens going for 70 Dai, instead of for the regular price of 100 Dai. Get them before they're gone!
---
Interview
Hugh Karp, is taking on the massive task of helping protect users from the many risks if decentralized finance. The Nexus Mutual founder explains how the system works, what risks are covered (DAO-like hack? Yes. Oracle failure? No), and which coverage areas the team is planning to add. He also says building blocks are coming into place so that soon DeFi applications will offer functionality traditional finance simply can't. He shares his bigger vision for how insurance can leverage open finance to increase access for those who traditional insurers can't serve.
News & Views
MakerDAO Will Likely Get a New Safety Net: MakerDAO community will likely vote to add a time buffer designed to counter potential attacks, but it's unclear how much safer the system will actually be with it.

Bitcoiners Want their Own MakerDAO: Money on Chain is creating a stablecoin that's pegged to the dollar and backed by bitcoin, CoinDesk reported. That sounds similar to MakerDAO, which is pegged to the dollar and backed by Ether –except for some important nuances.*
Jack Dorsey's push towards decentralized social media is a another sign the pendulum is swinging away from today's walled gardens and into a more decentralized future. The line between social media and finance will soon be blurred and assets will be as easy to create, transfer and modify as grumpy cat memes
The Day a Ban Highlighted DeFi's DeFi-Ness: Uniswap's move to ban 10 countries from its platform ironically highlights how decentralized finance can broadens access to all users.

There's Now More Dai Than Sai: The Dai flippening is upon us. The amount of Dai outstanding now exceeds the amount of Sai for the first time.
Chart of the Week: Dai Vs. Sai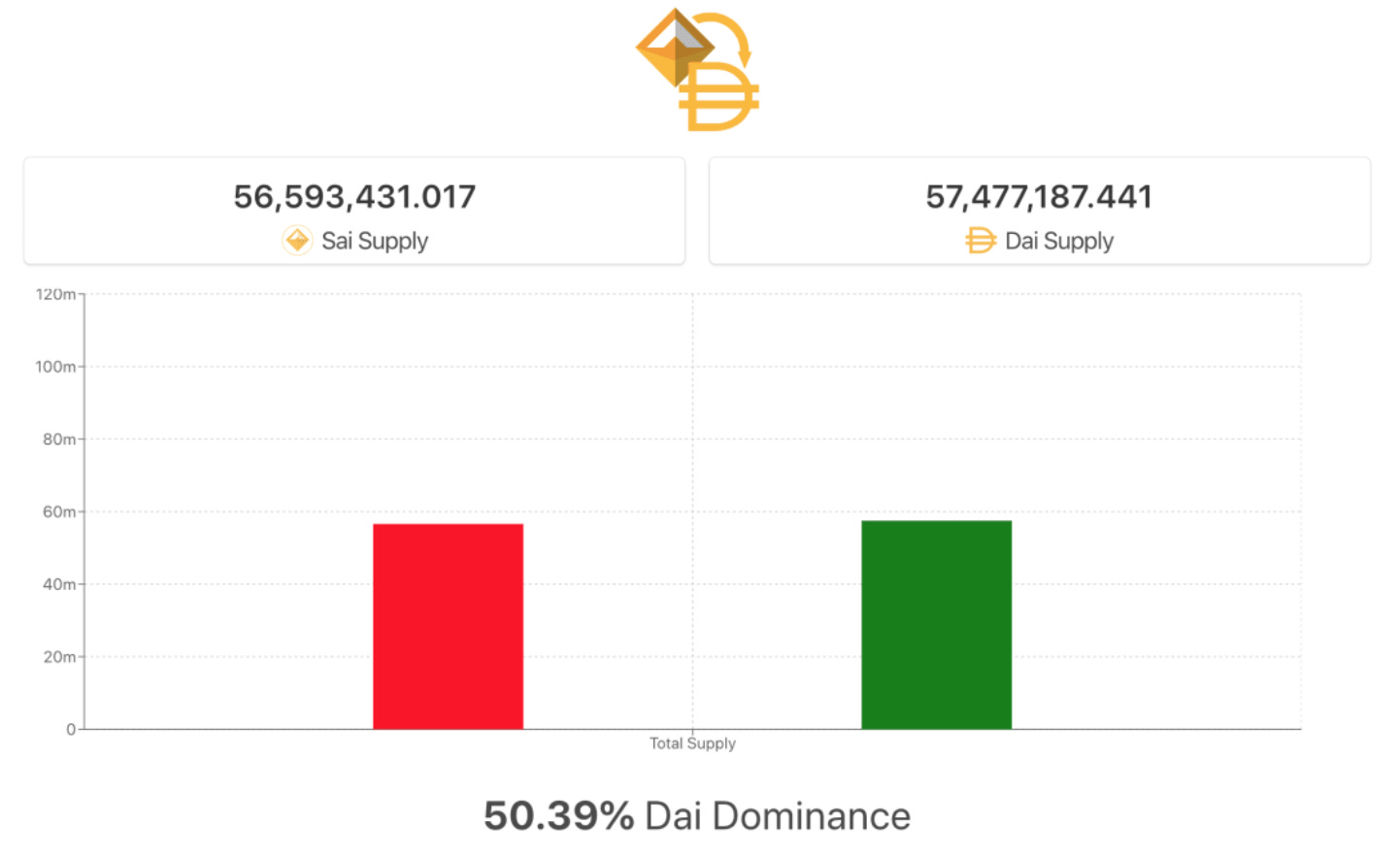 ---
💜Community Love💜
Thanking all the amazing defiers for the support and love this week (and always!)
---
Don't be late to all these news. Subscribe to read the full posts and to get the latest and most interesting developments in the decentralized finance space.