Ether Short Sellers Flee, DeFi Loans Shot Up Amid Crypto Rally
Good morning defiers :) Lots going on in crypto and decentralized finance:
Short sellers are fleeing ether and crowding into bitcoin

Early signs point to DeFi doing alright in a bull market

Dai will soon be available in bitcoin ATMs

Opera releases crypto-ready iOS browser
---
Short Sellers Flee Ether
The cryptocurrency market was absolutely insane yesterday.
Bitcoin soared as much as 17 percent to almost $13,800, only to dump back to $11,700, and then start to recover. Ether followed along to a lesser extent gaining 14 percent to about $360, then falling back to as low as around $315 and climbing back up.
That continued to push ether's value lower relative to bitcoin's, with ETH/BTC dropping to 0.026. (More on that on yesterday's Defiant).
Short sellers might have noticed ETH could be due for comeback and short positions on Ethereum's cryptocurrency plunged.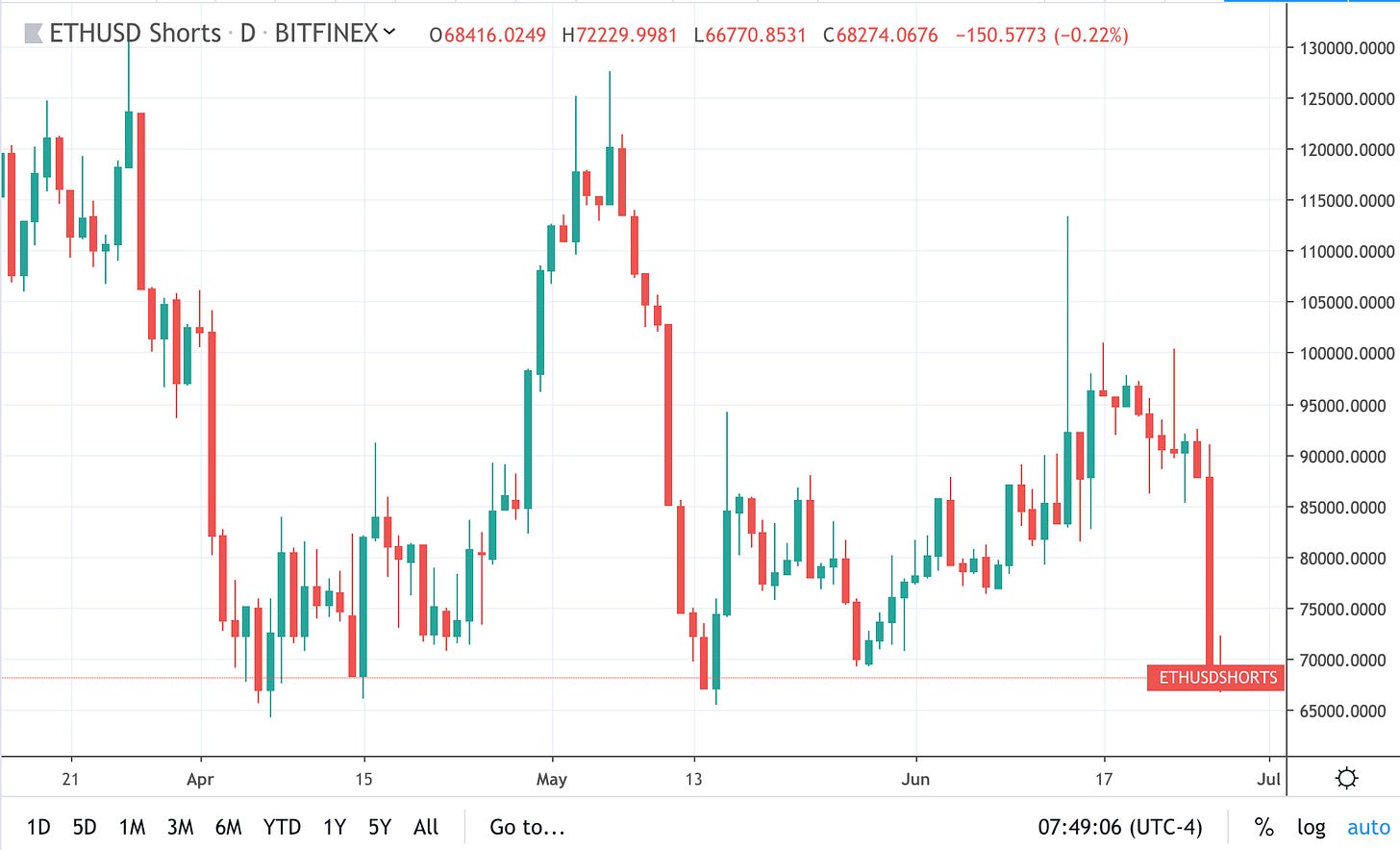 Meanwhile, bears might be thinking the opposite with bitcoin. Maybe it's time for the biggest crypto to take a breather, they might have been saying as short interest for Bitcoin continued to rise.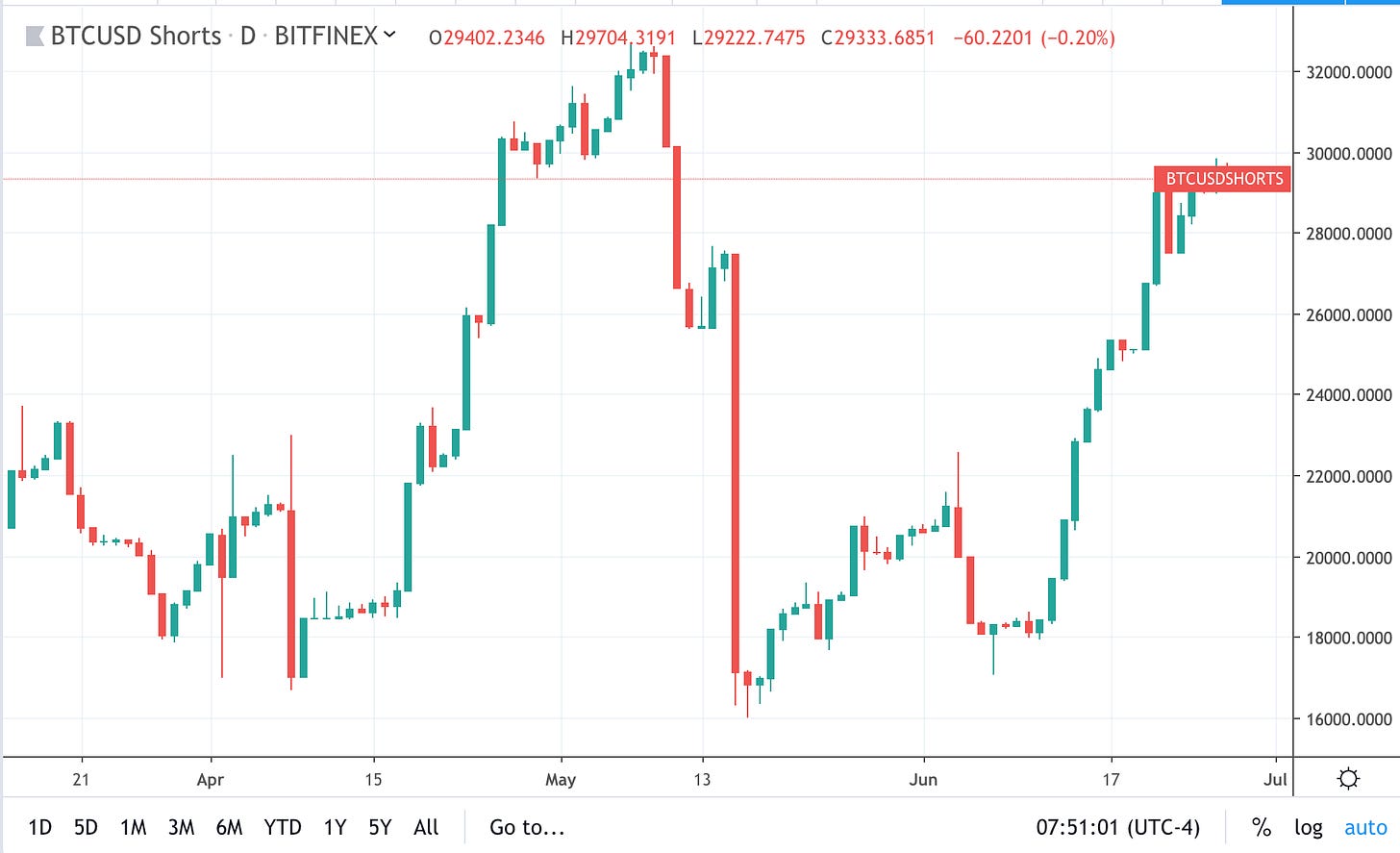 That just indicates short-term sentiment and it wouldn't be the first time short sellers got rekt. One sign that that could happen is that volume picked up amid the latest gains so there may be some longer term conviction.
Early Bull Market Signs Bode Well For DeFi
It feels a little bit like we're back in 2017, and we know what that did to ETH (moon), but what will a bull market do to decentralized finance?
The problem with making predictions about that is that these protocols weren't even around back then.
It was natural for DeFi to thrive in a bear market when ICO teams and other hodlers were eager to earn some return on their stash of ETH, rather than watch its value whittle away. Platforms like Compound and Dharma were some of the few places people could put their crypto to work and it helped the space thrive.
But the other big use case for DeFi is borrowing. The top platform for this is MakerDAO, where users lock up their ETH to get DAI, and usually use that DAI to buy more crypto. Effectively, DeFi can be a tool to double down: You have the ETH you locked up, plus the crypto you were able to buy with the DAI you got for it.
And traders appear to be doing exactly that as the market heats up. DeFi platforms originated the most loans in at least three months yesterday, according to LoanScan.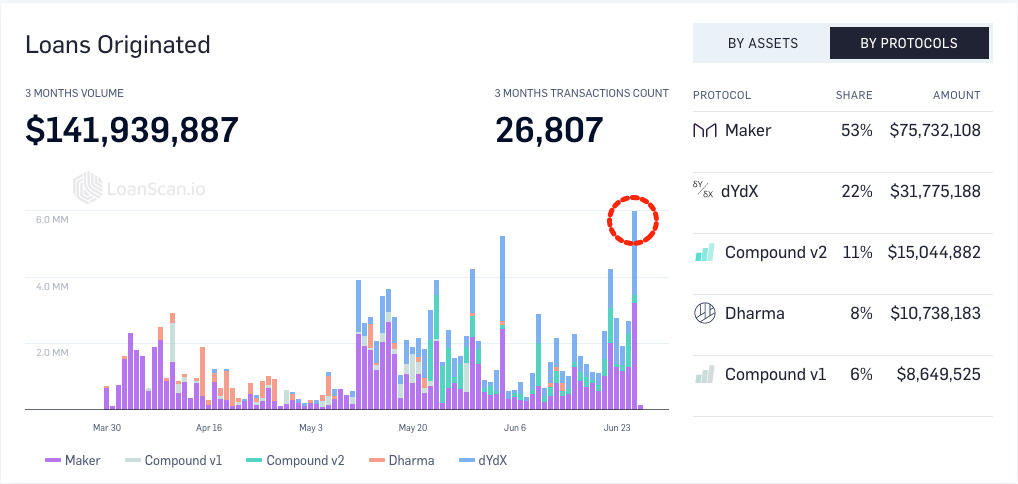 The increasing ability to trade on margin in these protocols will help bring volume to the space as investors seek to go long (wrote about margin trading here). One question is whether crazed bulls will be willing to give up the chance to use 100x leverage on BitMex and use the more restrained conditions available on DeFi.
In any case, yesterday's action amid a crazy rally should be encouraging for what's to come for DeFi if this indeed is the start of more sustained gains.
Opera Launches Blockchain Ready Browser for iOS
Opera released a browser for iPhone's iOS that incorporates a cryptocurrency wallet and supports Ethereum Web3 APIs, which enables seamless interaction with decentralized applications. The software company had previously released the product for Android and PC.
No blockchain-based application will become common place if it's not as easy as hailing an Uber, and this lays the groundwork for that to happen.
Coinsource Adds Dai to Bitcoin ATM
Bitcoin ATM operator Coinsource will start offering MakerDAO's stablecoin DAI across 230 machines in 29 U.S. states. The plan is to later roll out a remittances service that will allow users to send cash from wallet to wallet.
DAI is well suited for remittances as it enables the transfer of value across borders without the volatility of bitcoin or ether.
Ethereum History Website
Check out the website marking key events in Ethereum history that I made with Kerman Kohli of Helis Network and Defi Weekly! https://thehistoryofethereum.com/
---
The Defiant will continue be free until July 31st. Starting August, the only in-depth and daily DeFi-focused content out there will be $10/month and $100/year, for complete access.
As a way to say thank you to the first ones joining me in building this platform, anyone who signs up before then will pay just $8/month and $80/year.
Go subscribe now! You'll be supporting independent journalism and allowing me to continue illuminating this fascinating corner of the world for you.