Ether Keeps Sliding Versus Bitcoin, Ethereum Address Growth Lags
Good morning defiers! Here's what's happening in decentralized finance:
Active Ethereum addresses growth isn't keeping up with ether

Ether is at the cheapest since March 2017 relative to bitcoin

DeFi loan bridge launched

Someone borrowed $1 million on MakerDAO
---
Active Ethereum Address Growth Lags Ether Price
Ether is climbing faster than daily active addresses on Ethereum, narrowing the gap between the two metrics by the most since September.
The cryptocurrency tracked active daily addresses for most of 2017 through the first half of last year. Ether started to diverge from active addresses in July 2018 and slumped to as low as $84 while addresses remained relatively stable at over 300,000.
The gap has been narrowing since, with ether is up about 140 percent this year to over $300, while active addresses are only up 17 percent to 335,000, according to Coin Metrics.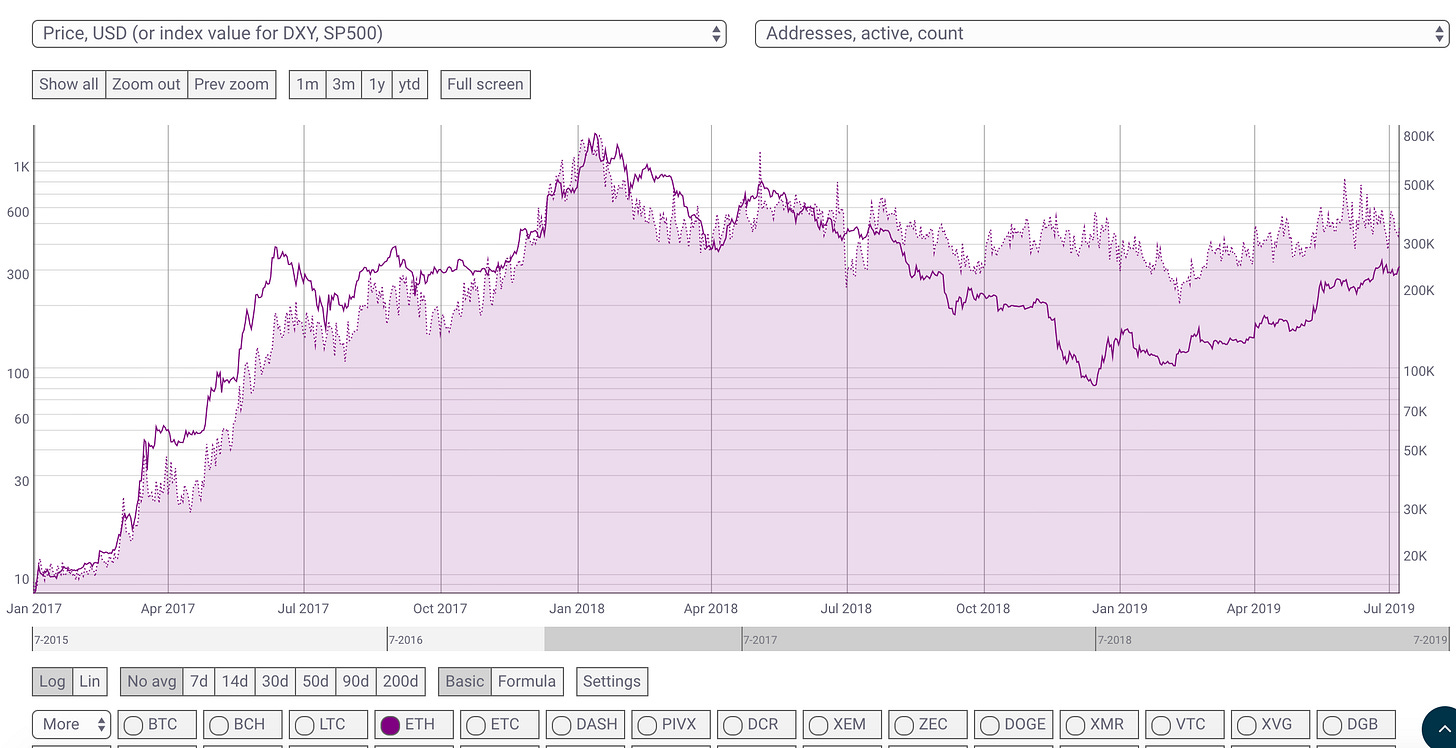 Image source: Coin Metrics
In hindsight, active addresses stability versus a plunging ether signalled the cryptocurrency was undervalued. Now that the price is climbing faster, the argument isn't as clear, at least based on this metric.
The opposite is true for bitcoin, which had been outpacing daily active addresses since January 2018 and now they're catching up to the price.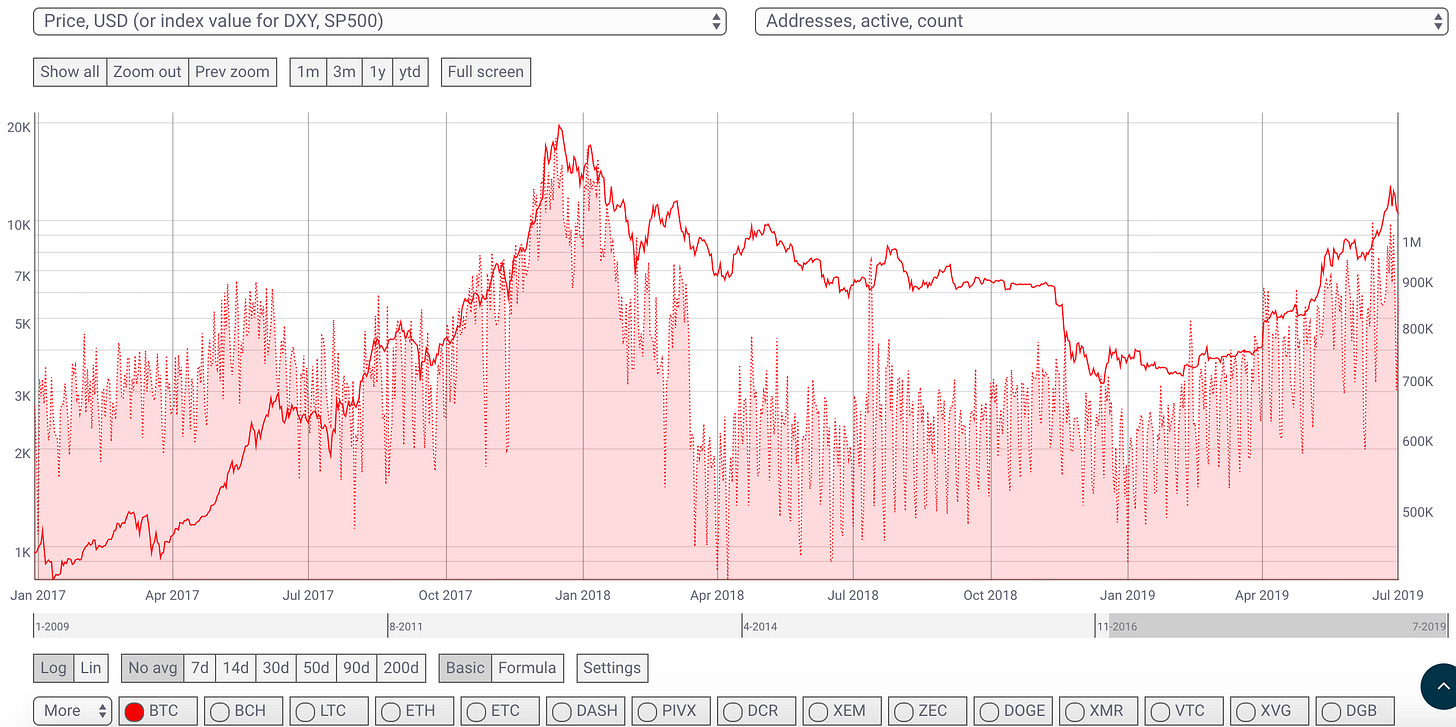 Image source: Coin Metrics
If surging active addresses relative to price is bullish, then these two charts signal bitcoin and ether might need to take a breather before adding any more gains.
Ether at Cheapest in Over Two Years Vs Bitcoin
Ether just keeps sliding against bitcoin.
Bitcoin has continued to charge higher after crossing $10,000, while ether's rally has lost steam. That's pushed the bitcoin per ether rate to just under 0.025, the lowest since March 2017.
The last time I wrote about ETH/BTC, on June 26, it had dropped to 0.027 and kept sliding for two days to 0.025 before recovering back to 0.028. But it kept sliding after touching that level.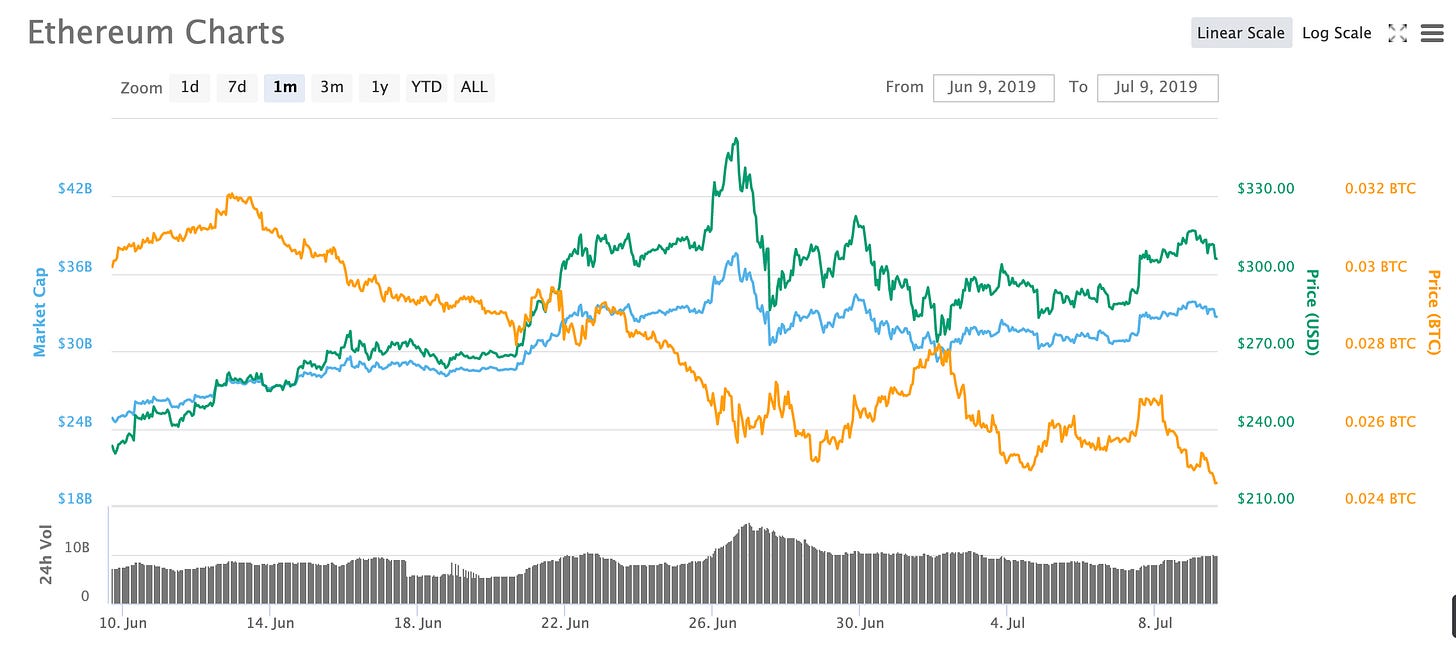 It's not just ether. Bitcoin is gaining relative to the entire cryptocurrency market, and now accounts for almost 64 percent of crypto market capitalization, the highest since April 2017, according to CoinMarketCap.
Even with U.S. stock indexes near record levels indicating high risk appetite, it seems that traders aren't willing to stray too much from digital gold.
Over $1 Million Crosses Loan Bridge on First Day
InstaDapp launched a bridge between MakerDAO and Compound Finance for users to switch their debt positions between protocols and get the best rates.
On its first day 3,865 ETH, or $1.2 million, and over 500,000 DAI crossed the bridge from MakerDAO to Compound Finance, said InstaDapp co-founder Samyak Jain.
Money will likely keep flowing from MakerDAO to Compound as MKR holders are voting for a rate hike to keep the DAI peg.
This solution further highlights how blockchain-based finance has the potential to make banking many times more efficient. How much effort does renegotiating a better rate or switching a loan from one bank to another have required in traditional finance? People are doing that with a few clicks.
A $1 Million Loan for 73 Cents
Similarly, someone got a $1 million loan on MakerDAO, Mythos Capital founder Ryan Sean Adams pointed out yesterday.
Like all collateralized loans on Maker, it happened over a few minutes, with no questions asked. The fee was just 73 U.S. cents.
The catch is that the person had to put up at least $1.5 million worth of ether in collateral as Maker requires loans be backed by 150 percent of assets being borrowed. They're also paying 18.5 percent of interest. That means the person is expecting to get a higher return from whatever they want to do with the $1 million of DAI.
DAI loans will increase if ether continues to climb as borrowers use Maker to take leveraged long positions.
---
The Defiant will become a paid newsletter in the next couple of months. As a way to say thank you to the first ones joining me in building this platform, anyone who signs up before the paid period will pay just $8/month and $80/year for the best (and only) daily, in-depth DeFi content out there, compared with the full price of $10/month and $100/year.
Subscribe now! You'll be supporting independent journalism and allowing me to continue illuminating this fascinating corner of the world for you.