Dex Aggregator Game Heats Up With 0x as the Latest Player
0x is vying to become the decentralized trading standard; biggest competitor in aggregator space is 1inch.
Hello Defiers! This is what's going on in decentralized finance,
0x launches dex aggregator on its quest to become the trading standard

You're more likely to make more money on Pool Together than Compound, according to TokenAnalyst

Ethereum client Nimbus receives $650k grant rom EF
and more.
You're receiving this email because you're a signed up for the free version of The Defiant (thank you!) That means you're getting an abbreviated version of today's newsletter. For access to the full content, subscribe now at $10/month, $100/year, or 70 Dai on this link.

0x Enters the Dex Aggregator Game
With so many decentralized exchanges popping up, aggregators are increasingly needed to navigate the crowded space, and 0x is the latest player to join that game.
0x, a protocol for decentralized exchanges on the Ethereum network, yesterday launched its 0x API for developers to access liquidity from dexes including 0x Mesh, Kyber and Uniswap. The goal is for users to easily find the best price to swap tokens across all these platforms.
💡A decentralized exchange is a platform to swap digital assets, which doesn't store users' funds, leaving traders always in control of their tokens, and can be openly accessed by anyone with a corresponding digital wallet. At least part of the trading process is done directly via a computer program that's running on a blockchain, which means it doesn't require centralized parties to manage order books and trading history is transparent.💡
Other token liquidity aggregators in the market include 1inch, Dex.Ag and Totle, making 0x the only one involved in both the dex and the aggregator spaces. Growth in these platforms is a sign that DeFi is becoming more sophisticated, with builders trying to squeeze the best possible price over the sleekest UX for demanding traders.
1inch Taking the Pie
0x's biggest competitor will be 1inch, whose volume started surging in November, and is now many times the amounts traded on Totle and Dex.Ag, according to data compiled by Dune Analytics.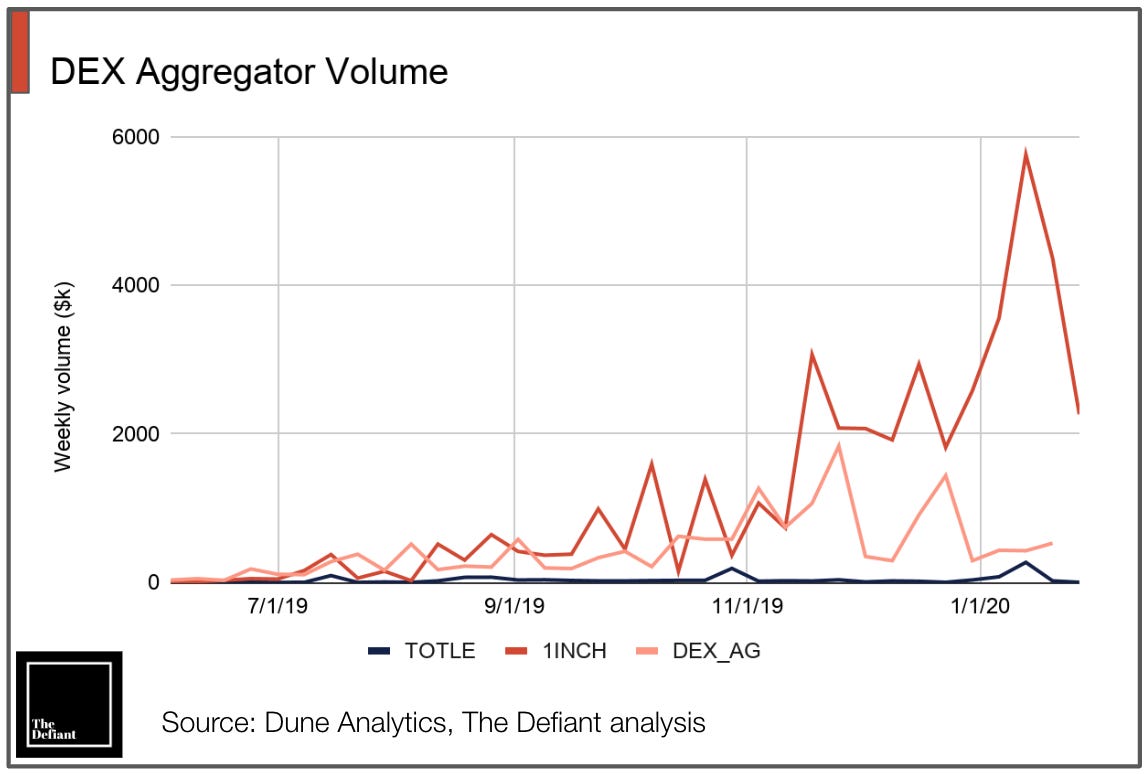 1inch, which splits orders among multiple dexes in one transaction, has quickly become the dominant dex aggregator. The platform also says its transactions are up to 42 percent cheaper because of using GasToken, according to its website.
NOTE: CHARTS WERE UPDATED to reflect latest data from Dune Analytics and Dex.Ag. Previous charts had outdated queried and missing information.
[…]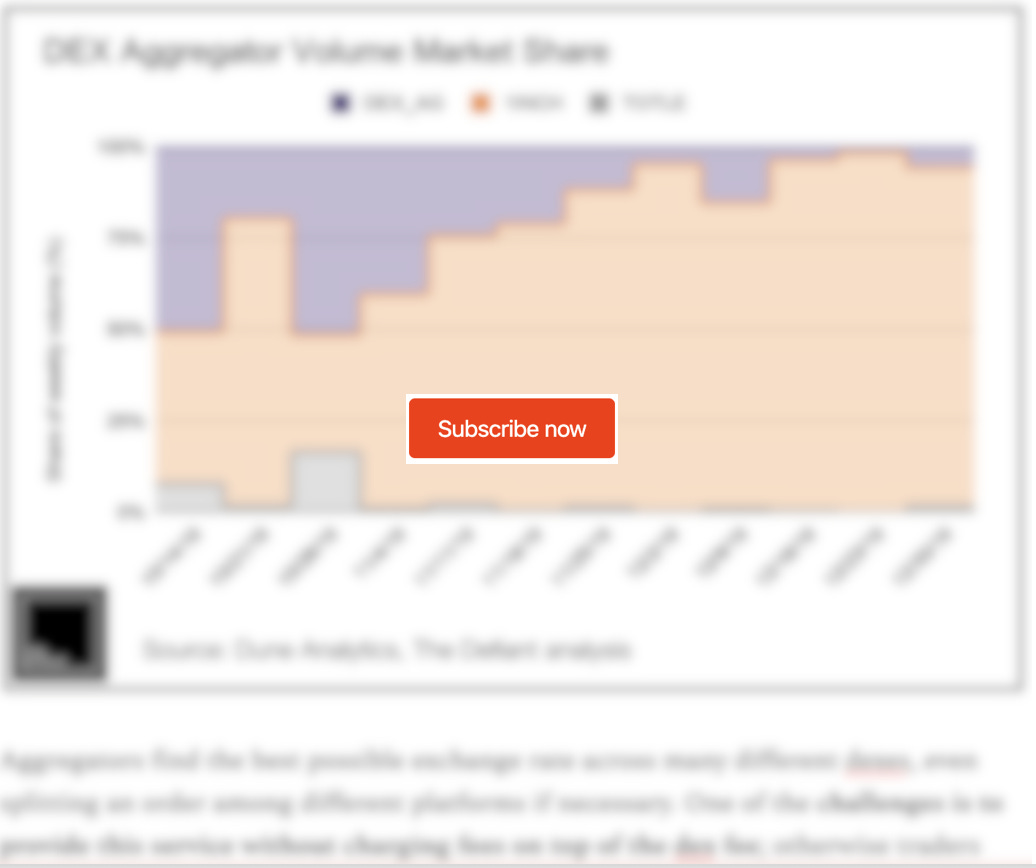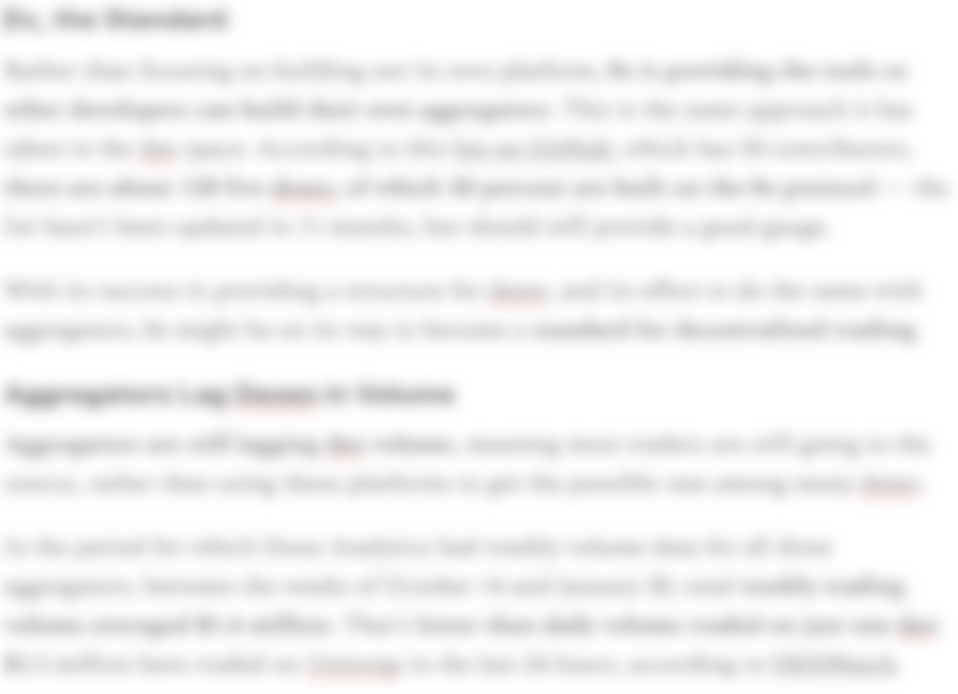 Is Winning the Lottery the Safer Bet?
Traders stand to earn more in Pool Together's "no-loss" lottery than by gaining interest via depositing funds on Compound Finance, according to Ankit Chiplunkar, lead researcher for TokenAnalyst.
At the current situation of 0% pool_together_fees and $250k worth of sponsored tickets in a winnable_tickets worth $612k, probabilistically one would earn 1.4 times more in Pool Together protocol vs the Compound protocol.
A Better Fundraising Model
Let's bring back fundraising to crypto, but without all the misaligned incentives and scams of ICOs, proposes crypto investor David Iach.
In Iach's proposed Liquidity fundraising model, ETH raised would be automatically transferred to a liquidity pool on Uniswap, along with an equivalent value of the issued token. The team would receive a portion of the newly issued tokens, but they would vest over a few years and be transferred via a streaming type contract. The rest of the tokens would got to investors.
ETH 2.0 Client Nimbus Receives $650k Grant
The Ethereum Foundation has granted Nimbus $650,000, for it to continue developing infrastructure for Ethereum 2.0. The project, founded in 2018 by The Status Network, plans to build a version of Ethereum that can run on smaller devices, according to Decrypt. Nimbus has now received a total of $1.65 million from the foundation.

Ashwin Ramachandran & Haseeb Qureshi of Dragonfly Capital give an overview of the history of Ethereum Layer 2 scaling mechanism Plasma.

Once that red bar crosses the blue bar, ETH prices should be pressured higher.
---
Hope you're enjoying The Defiant! It really helps if you spread the love <3
---
The Defiant is a daily newsletter focusing on decentralized finance, a new financial system that's being built on top of open blockchains. The space is evolving at breakneck speed and revolutionizing tech and money. Sign up to learn more and keep up on the latest, most interesting developments. Subscribers get full access at $10/month or $100/year, while free signups get only part of the content.
Click here to pay with DAI.There's a limited amount of OG Memberships at 70 Dai per annual subscription ($100/yr normal price).
About the author: I'm Camila Russo, a financial journalist writing a book on Ethereum with Harper Collins. (Pre-order The Infinite Machine here). I was previously at Bloomberg News in New York, Madrid and Buenos Aires covering markets. I've extensively cove