Almost a Third of Top DeFi Projects Did ICOs
Good morning defiers! Here's what's going on in decentralized finance:
Almost a third of top DeFi projects were funded by initial coin offerings

Compound released a new oracle system

Synthetix launched new index tokens
---
Almost a Third of Top DeFi Projects Did ICOs
With so much gone wrong during the initial coin offering craze, decentralized finance offers a glimpse of what went right. The crowdfunding mechanism helped bootstrap a chunk of the most active and innovative corner of the blockchain space.
Of the 18 projects listed in DeFi Pulse, five did ICOs, raising about $235 million combined. Synthetix, one of the projects that held an ICO, is the fourth platform with most value locked, while Kyber is one of the most popular decentralzied exchanges. Augur was the first project to ICO on Ethereum and it continues to improve its prediction markets protocol.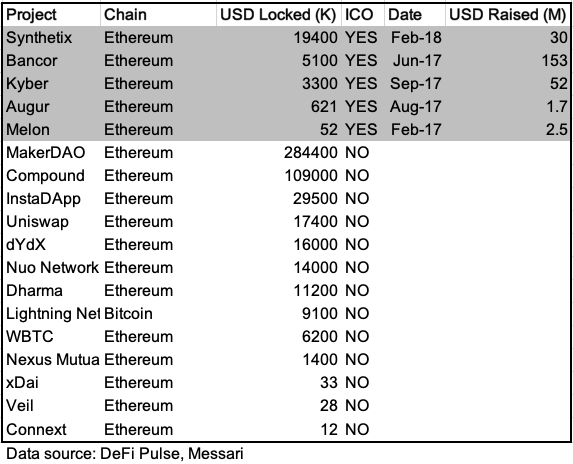 What drove Vitalik Buterin to write the Ethereum whitepaper was the idea of a featureless platform. The lego bricks versus the Swiss knife. Less than two years after Ethereum launched, one use case started gaining popularity: Fundraising. Startups could now raise money directly from investors across the globe, without having to go through Wall Street or Silicon Valley.
The lack of regulation, the misalignment between investors and startups, and the extreme greed on all sides, attracted scammers. Some Bitcoiners have been recently calling out the Ethereum community to take responsibly for investors who lost money because of failed tokens. I think:
Ethereum developers built a platform that allowed anyone to build anything. Bitcoin was also built as an open system for people to use however they want, and it's used as a store of value, and also to launder money, to fund terrorism, to hold ransomware attacks, etc. Bitcoin developers shouldn't be held responsible for those nefarious uses, just like Ethereum developers shouldn't be held responsible for failed ICOs.

Developing the software that was used to hold ICOs is different from promoting them. Those who were recklessly promoting risky token sales, knowingly misleading people, getting paid by ICO teams without disclosing it, etc., do carry responsibility. They're also not unique to Ethereum, or even crypto, and I have yet to see evidence that most or even many prominent Ethereum developers and researchers were doing that.

It's incredibly patronizing towards people who participated in ICOs to argue that they should have been "protected." That implies investors who aren't "accredited," a.k.a. rich, can't think for themselves. Some people willingly took a gamble in token sales because they believed in the projects, because they wanted to get rich, or for whatever other reason. And they were entitled to do that. Just for perspective, less than 1 million people invested in ICOs, according to Bloxy.

Most ICOs have failed. Here's a good EY report with details on just how miserably. But some have succeeded and risen to the top of decentralized finance, in my opinion, the most exciting thing happening in blockchain right now. It's proof that some good came out of the original idea of token-based crowdfunding to bootstrap open source projects that normally wouldn't get a chance with VCs.

Was it worth burning through billions of dollars? While the idea driving ICOs was good, the execution was flawed and that first experiment taught the space just how flawed. But while mea culpas will be a of little use, building better funding mechanisms will actually make a difference, and that's what Ethereum developers are doing.
Compound Releases Open Oracle System
Compound Finance launched the Open Oracle System with the goal of creating a decentralized price feed, which won't rely on a single project and therefore diminishes the risk that it can be shut down. The system is made up of participants like exchanges who report data, those who post the data on chain, and users. Centralized oracles are a single point of failure for many DeFi projects and this is one attempt to fix that.
Synthetix Launches index Tokens
Synthetix, the platform for trading synthetic digital assets, launched a new category of index tokens tracking an index of centralised exchanges tokens. There's sCEX, a token to go long the basket, and a token to short it, iCEX. Synthetix's index tokens mimic ETFs in that they're a basket of assets traded like a single stock in traditional finance, or like a single token in crypto world.
---
The Defiant will become a paid newsletter in the next couple of months. As a way to say thank you to the first ones joining me in building this platform, anyone who signs up before the paid period will pay just $8/month and $80/year for the best (and only) daily, in-depth DeFi content out there, compared with the full price of $10/month and $100/year.
Subscribe now! You'll be supporting independent journalism and allowing me to continue illuminating this fascinating corner of the world for you.